Artists & Activists
Announcing my first book, a collection of some of my best writing from the Times Union over the last six years. It features profiles of important artists, producers and patrons from the Capital Region, some famous and others less well known, as well as various reports from the field.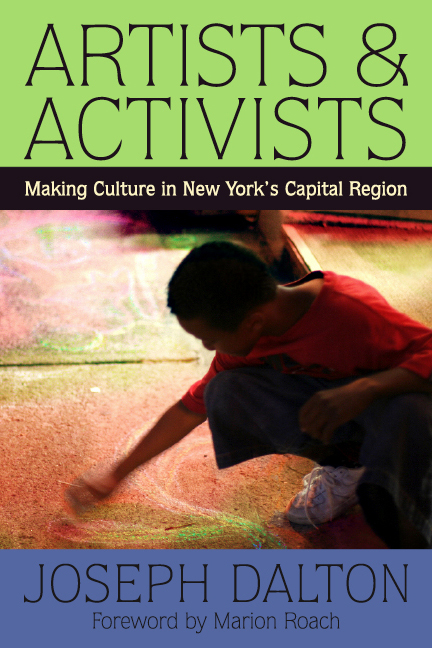 More than just the seat of state government, Albany New York and its surrounding environs is also the home to countless painters, composers, dancers and filmmakers. Meet some of the best in this wide-ranging collection of profiles and reports from the field, drawn from Joseph Dalton's popular coverage for the Times Union.
Whether amidst the struggling revitalization of cities like Troy and Schenectady, or the pastoral beauty of the Hudson Valley and the Berkshires, see how the region is inspiring some of today's most vital and influential creativity.
Dalton has an eye for detail and an ear for vivid language. If you don't yet appreciate the area's rich cultural life, you will after reading these portraits.
– Amy Biancolli
Keen insights and probing interviews… appealing and accessible to the general public but also revelatory and thought-provoking for arts professionals. Dalton keys in to the unique human qualities of his subjects and enriches our understanding of how and why the arts matter in our lives, now more than ever.
– Clarence Fanto
Thoughtful and thorough insights … that can change minds and build community. A pleasure to read and startling in its breadth.
– Pauline Oliveros
The art scene is an animal that moves fast and is all instinct. While others slept on it, Dalton has been with us from the jump. He gets it.
– Tommy Watkins
"Since 2002 Joseph Dalton has been reminding readers of the ubiquity of art…. His is the voice we want to hear, and he invites us to go along with him as he talks with the artists whose works heighten our lives."
– Marion Roach (from the Foreword)